Review: Coleman Queen Airbed Cot
Written by Zack Newsome
Updated on April 27, 2023
When you purchase something using the links in our posts, we may receive a small commission — but it never affects your price or our opinions.
We're always looking for ways to help people outdoors. Rough sleep is a major consideration (and concern) for many to stay at home. Our Coleman Queen Airbed Cot review presents a great option to make camping more comfortable and enjoyable.
The Verdict:
If you have the room in your vehicle (and in your tent), the Coleman Queen Airbed Cot can turn camping into glamping with a single purchase. It's comfortable, durable, and can double as a spare bed for house guests. It's not for everyone, but for those looking for motivation to get outdoors, this airbed can make the experience more comfortable and luxurious. The best amenity this cot provides is the ability to sleep comfortably alongside your partner – making it feel more like home.
Specs & Features:
Dimensions: 78″ x 59″ x 22″
Supports up to 600 lbs
Folding Steel frame
22″ bed height
carrying bag included
includes 2 side tables with cup holders
includes a battery-powered pump for mattress inflation
weighs 22.5 lbs.
Purchase the Coleman Queen Airbed Cot on Amazon
Packing Size:
The Coleman Queen Airbed Cot comes with a convenient carrying bag.  Stored in the bag, it resembles a pop-up canopy in size and packing dimensions.  The bag with the bed inside is approximately 37 in. long, 10 in. tall, and 7 in. wide.  Being that this cot is essentially a queen bed on a folding platform, it does take up significant packing space when headed out to camp.  Depending on what else is on your packing list, you may not have room for such a large luxury if you are in a smaller vehicle.
This cot is made for those who have space in their vehicle and in their tent.  If you have a large SUV or a pickup truck with plenty of room, having this along on the trip is a great amenity.  If you are tight on space, stick with a regular inflatable mattress on the floor. A large tent like the Kodak Canvas Flex-Bow 10'x14′ tent is a perfect vessel for this large airbed.
That being said, the carrying bag is a great accessory.  The folded bed frame, deflated mattress, side tables, and pump all fit nicely inside without having to tug and stuff like other products' carrying solutions (I'm looking at you, pop-up tent). A zipper running much of the length of the top of the bag allows for great maneuverability when packing the cot away.
Set up:
During testing for our Coleman Queen Airbed Cot review, we found that the setup of this cot is easy, though awkward.  The bed frame is well designed and neatly folds in on itself to minimize the packing space required to stow. Unfolding the frame is a one-man (or woman) job, but if you have an extra set of hands to help, it'll save you some initial awkwardness.
The included queen air mattress is separate from the frame.  Once inflated, the mattress slips into a zippered pocket mounted to the top of the bed frame.  Like the zipper of the packing bag, the zipper of the mattress pocket is large and unzips a long way giving you plenty of room to slide the mattress inside without trouble.
The included air pump (which requires 4 D batteries that are not included) inflates the mattress easily. The pump is nice to have along in the carrying bag, but we recommend making sure to bring some spare batteries along 0 just in case.
Finally, the optional side tables are a nice touch.  Like the frame, the side tables fold in on themselves to save space when packing away. Set up is as easy as unfolding the side tables, locating the appropriate slots on the side of the bed, and placing the tabs of the tables into the slots.  The cupholders in these tables are great and the tables seem sturdy enough for small items (think keys, phone, flashlight, etc), but due to the simple attachment point on the bed frame, I would caution against resting anything too heavy on these.
Comfort:
Compared to a sleeping bag on the ground or a thin mattress pad, sleeping on this is heaven.  I am a big believer that camping should be comfortable – a doctrine that my wife and kids fully agree with me on.  Camping should be about enjoying the outdoors – the fresh air, the multitude of stars, quiet, and solitude – not a sore back and awful sleep.  The Coleman Queen Airbed Cot makes sleeping in the outdoors easy, enjoyable, and comfortable.
In true Goldilocks-style, the air mattress was just right for us – not so soft that you roll into the person next to you all night, but not so hard that you can't get settled sleep.  Again, considering the alternatives (ground or thin sleeping pad) this mattress is something to look forward to on your trip outdoors.
Coleman has a bunch of different trademarked names for the elements that ensure this mattress's comfort:
AirTight® – apparently tested at the factory to be leak-free
ComfortStrong™ – a coil system that provides better support for all-night comfort
Double Lock™ valve – a leak-free dual-sealed valve
We did not have any issues with deflation in our multiple-night test of this mattress.  It stayed properly inflated and comfortable without having to add air throughout our trips.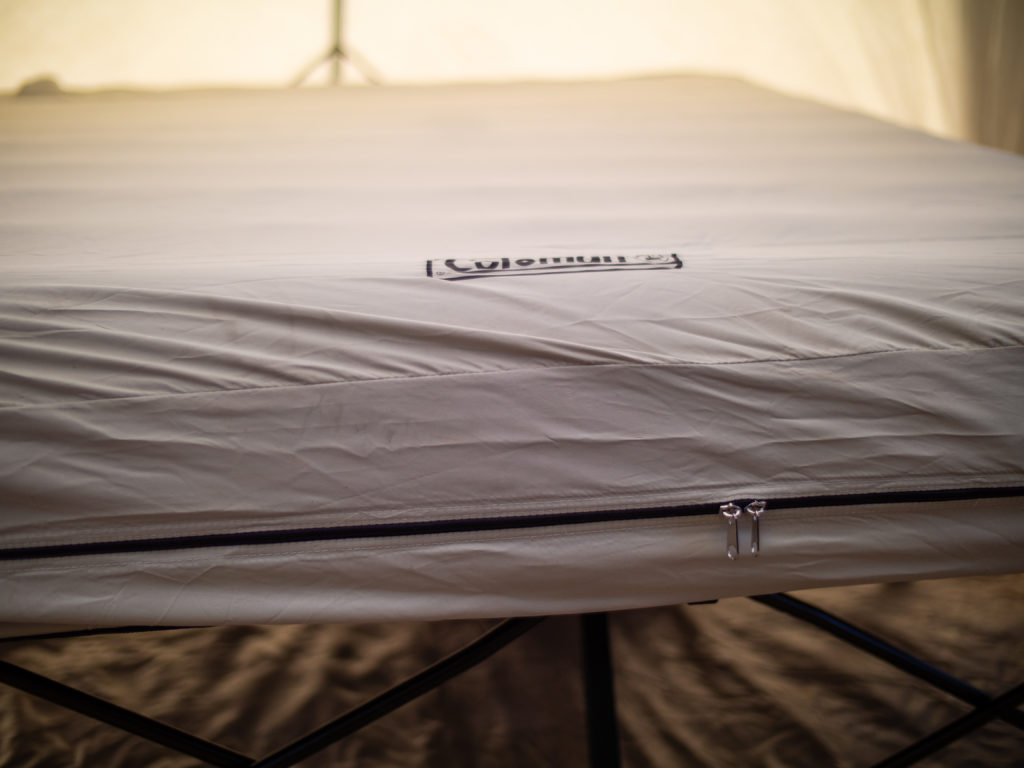 One of the best aspects of this airbed cot is its 22 inches of height off the ground.  It can be difficult to get up from a rough night of sleep on the ground while camping.  A sore body (especially in chilly temperatures) can make getting up out of a sleeping bag a chore even for the young and nimble. The Colemen airbed cot feels just like you're getting in and out of your bed at home.  The ability to slide your legs over the side of the bed in the morning to sit up and get your bearings makes for a much more pleasant experience.  The height of the cot also makes for a quick seat when putting on shoes and socks – a simple pleasure, but nice nonetheless.
Finally, the best part of this airbed is the Queen sizing.  Gone are the camping trips to beautiful locales capped off by a fireside snuggle with your partner only to both retreat to separate (and uncomfortable) sleeping arrangements.  The size of this airbed allows the snuggling to continue through the night if you so choose.
The only real issue we (and others online) have experienced with this airbed cot is that the mattress can be loud when moving around. Having read other reviews before purchasing, we knew this was a concern beforehand, but it hasn't bothered us too much.  To be sure, each movement does come with a corresponding "vinyl-sliding" sound, but it's not too loud, and the comfort of being on an elevated inflatable cloud while camping is well worth it.
Durability:
Like most things, the durability of this airbed is related to proper care and usage.  The steel frame is sturdy and the joints don't seem to warrant too much worry. The pocket the mattress fits into is a thin material and while we didn't have any issues, I could see small tears or wear spots potentially being an issue with a lot of use.
The big question with durability is the air mattress.  The air mattress that comes with the Coleman Queen airbed cot is certainly made of thicker material than a cheap air mattress picked up a Walmart or Target, but air mattresses typically don't last forever.  While the air mattress is the most important part of this cot (especially with fancy marketing features such as AirTight®, ComfortStrong™, and Double Lock™), any replacement queen-sized air mattress should fit into the mattress sleeve on the frame.
If you camp a handful of times per year and use this cot occasionally indoors for houseguests, it should last for many years without issue.  The carrying bag allows all the included items to be properly and safely stored while protecting the contents from the elements.  Take care of it and it will take care of you.
Value:
The Coleman Queen Airbed Cot is expensive when compared to most camping sleep solutions. Though Coleman lists its price at $219.99, as of this writing, it can be purchased for less on Amazon.
The value of this airbed is measured by its convenience and comfort.  If it helps you get outdoors more often, avoids the backaches, and gives you the opportunity to share a bed with your partner – it's well worth the cost in our opinion.
Looking for a tent with plenty of room for this Queen Airbed Cot? See our recent review of the Kodiak Canvas Flex-Bow Tent.
---
About the Author

Zack Newsome
Zack is a lifelong adventurer passionate about sharing the joy of the outdoors with others. He loves camping, fly-fishing, sailing, and exploring wild spaces. He launched Outward in early 2022 to inspire others to spend more time outdoors – improving mental health and more deeply connecting with the environment.
---
You May Also Like
---
Popular Articles
Recent Articles