Review: GOLABS i200 Portable Power Station
Written by Zack Newsome
Updated on April 25, 2023
When you purchase something using the links in our posts, we may receive a small commission — but it never affects your price or our opinions.
Our GOLABS i200 power station review used a unit we purchased on Amazon as we put it to the test on a recent 3-day camping trip to the mountains of Northern Arizona. In this review, we tested all of the available ports and used them in as many different ways as we could think of to test the various discharging and recharging functions.
When spending more than a few days out in the wild, having a power source can both be a luxury and a lifesaver.  Having the ability to charge a Bluetooth speaker while camping keeps the good times rolling. Being able to keep your phone charged can make all the difference when things go wrong out in the wild.  Portable power stations, like the GOLABS i200, have been gaining in popularity in recent years. As battery technology has gotten better, portable power stations give you the ability to power all of your devices with one portable unit that can be easily carried around your campsite for a variety of uses.  Don't get me wrong, a portable power station isn't something you'd bring along on a backpacking trip, but for car campers, portable power stations are a must-have item in my opinion.
The Verdict:
The i200 is my first portable power station.  I've watched the technology get better and better while the prices lowered until I couldn't resist the GOLABS i200.  Power stations come in a variety of battery sizes from around 100Wh (watt hours) to over 2000Wh, but we decided that the 200-300Wh range was a perfect fit for our needs (mainly camping and the occasional portable power needed around the house).  At 256W, the GOLABS i200 fits our needs perfectly. With all of its available ports, the ability to recharge the battery with our portable solar panel, and weighing in at only 8 lbs, the GOLABS i200 has been a welcome and valuable addition to our camping kit.  The i200 is currently listed on Amazon for $199, but we purchased ours a few months back on sale at $120.   At $199, this power station is still a worthwhile purchase, but you may look at other similar models at a lower price.
While our overland trailer has its own 200Ah 12V power system, the i200 is a great compliment allowing us to leverage the solar components we've installed in the trailer while extending our power to our tent and other areas of our campsite.

The Design:
The i200 is a good-looking little unit. All ports are on the front with a blank back and airflow ports on both sides. The left side also includes a bright white led light with 3 modes – solid, slow-flashing, and quick-flashing.  The display is simple and displays battery level and current watt usage, and also lets you know what type of devices are currently using power (USB, PD, 12V, & AC). My only gripe about the display is that GOLABS chose to use a battery icon with 5 bars to indicate battery level.  I would have preferred a battery percentage amount for more accuracy, but at this price, this is about the only downside and it's minimal.
All in all, the i200 has 9 various output ports along with a single input port.  3 charging cables are provided with the unit that each hook into the input port: a solar cable with MC4 connectors, a 12V cigarette lighter cable to charge from a vehicle, and a 110v cable for charging at home. One of the best features is the 60W power delivery port that can be used to power PD devices AND can also be used to charge the i200 as well.
Overall, the unit is easy to use and just works. For our general camping use – charging phones, drones, cameras, tablets, and powering camping lights – the 256Wh battery size is the perfect balance of enough juice while being easy to handle. And speaking of handling a solid handle is built into the top of the case – so it's easy to grab and go with this unit.  Just make sure you don't have something plugged in when you grab or you'll be bringing it with you, dangling from its cable.
Our Experience:
For our GOLABS i200 Power Station Review, we put the GOLABS i200 to the test by using it to charge 2 iPhones, a kindle fire, a DJI Mavic Air drone, and a GoPro Hero 8 Black.  The 2 USB 3.0 ports allowed my wife and I to both charge our phones at night.  During the day, the i200 kept our drone with multiple batteries all charged via the (pure sine wave) 120v plug.  We used the 12V "cigarette lighter" plug to blow up our air mattress and used the 60W power delivery port to keep my MacBook Pro charged while at the campsite.
We plugged in our 100w portable solar panel using the included solar input cable and charged the i200 easily while at our campsite. With a lot of use, the battery never dropped below the 3 bars level and after a few hours of sunshine, it was full again.
Ports:
The i200 has 10 Total Ports:
1 input port (with 3 included cables for 12V/solar/120V charging)
1 12V "Cigarette Lighter" Port
2 12V DC Ports (10A)
2 USB 3.0 Type-A Ports
1 USB 3.0 Type-C Port (30W)
1 PD 60W Port (In/Out)
2 110V 200W AC outlets (pure sine wave)
Charging:
With an output port for just about everything you'd want to power while on the go, the i200 also has multiple ways to charge its internal battery backup when needed. The i200 can be charged 4 different ways:
12V "Cigarette Lighter" cable (for cars, RV, boats)
Solar Panel with MC4 connectors (solar panel not included with i200)
110V outlet (for home/office/generator charging)
60W Power Delivery Port (cable not included)
The i200 also has "pass-through charging" which allows you to power other devices while the i200 is charging.  I have tested charging a device via USB while plugged into 110V power and can confirm that pass-through charging works well on this device.  The only catch is that the PD delivery port doesn't allow pass-through charging – so if you are charging the i200 via 12V, solar, or 110V, you won't be able to output through the PD port.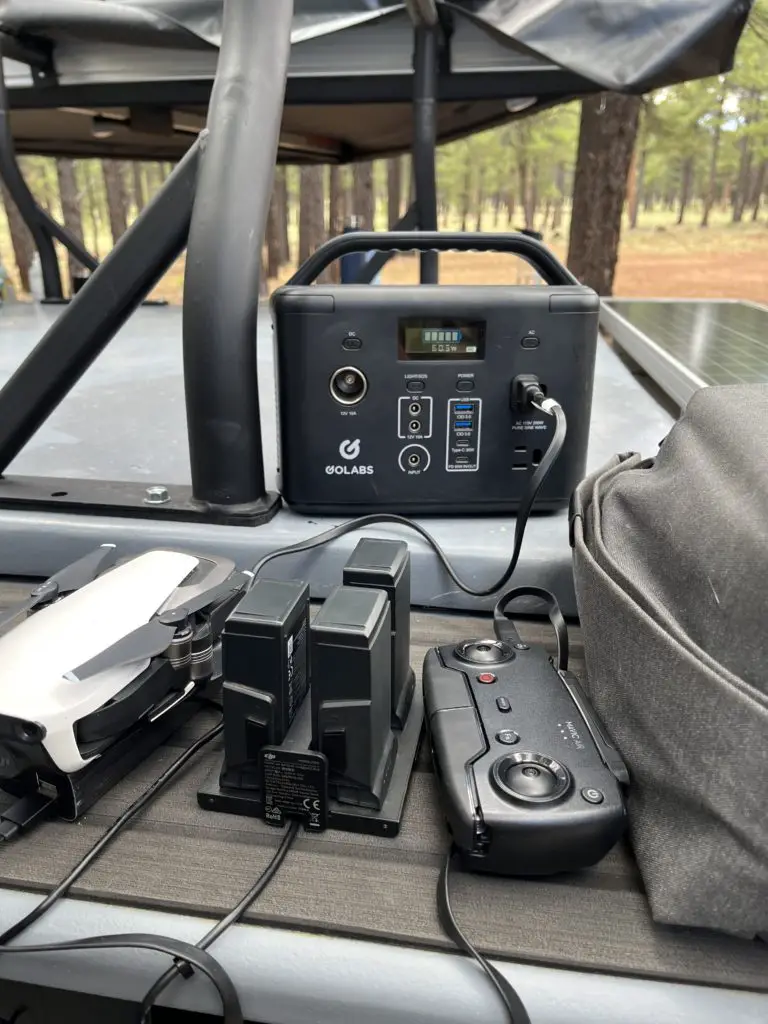 Best Features:
Below are some of the best features we discovered during our GOLABS i200 Power Station Review.
LifePo4 Battery – Lithium Iron Phosphate (LiFePO4) batteries are the top choice for portable power stations and the i200 has one.  A lot of power stations on the market are using older lithium-ion battery technology.  LiFePO4 batteries last longer and won't overheat and catch fire like lithium batteries have been known to do.
60W PD Port with In & Out – with more and more devices coming with power delivery (phones, laptops, etc), the 60W PD port on the i200 ensures it can also handle these devices – utilizing the full (or least up to 60W) of the quick charging ability of these devices.  An added bonus is that the i200 can also be charged via its PD port.  You can charge the i200 with the same charging adaptor and cable as your PD devices.
MPPT Solar Charging – MMPT charging when using solar panels means that the i200 is optimized to handle all the watts your solar panel produces.  MPPT charge controllers adjust the incoming voltage from your solar panels to send the correct voltage to charge the battery without losing valuable watts that PWM charge controllers can.  In short, MPPT charge controllers are more efficient and will utilize more of the solar power you produce.
Pass-Through Charging – A good number of power stations don't allow the device to output power while it's charging.  With pass-through charging on the i200, you can power other devices via 12V, USB, or 110V while charging the battery at the same time.  As I mentioned above, the only exclusion to this is the PD port which does not have pass-through charging.
Value:
The GOLABS i200 checked all of my boxes for a portable power station for outdoor use. At $199, there are cheaper power stations on the market, but before pulling the trigger on a cheaper device, make sure it has the LiFiPO4 battery, PD port, and Pass-through charging that the i200 has. These features are often the difference between a solid device that you'll use for years and one that is cheaper initially but ends up in storage (or the trash bin) early in its life.  Look for specials and discounts on the i200 or a similar device with these features.  I purchased my i200 in April 2022 for $120 and at that price, the value is there and then some.  I think this unit is a value anywhere around $200, but as battery technology continues to advance, look for cheaper power stations that have more features.  If you're like me, the i200 will fit your needs perfectly as is and when newer better devices come on the market, you can get a second, bigger power station to continue to expand your ability to stay off-grid.
Was out GOLABS i200 Power Station Review helpful? View our other outdoor gear reviews.
---
Related Products:
---
About the Author

Zack Newsome
Zack is a lifelong adventurer passionate about sharing the joy of the outdoors with others. He loves camping, fly-fishing, sailing, and exploring wild spaces. He launched Outward in early 2022 to inspire others to spend more time outdoors – improving mental health and more deeply connecting with the environment.
---
You May Also Like
---
Popular Articles
Recent Articles